Beetroot Chips and Herb Yoghurt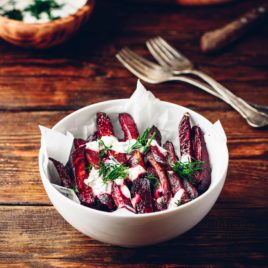 This beetroot side dish or snack is the perfect seasonal sensation!
BEETROOT CHIPS AND HERBY YOGHURT
Serves: 2
Ingredients
Six medium beetroot, sliced into 1 cm thick chips
1 tbsp olive oil
Handful of fresh chopped rosemary
1 tbsp chilli flakes
Seasoning
100ml vegan yoghurt
A squeeze of half a lemon
Handful of coriander, chopped
Method
Heat the oven to gas mark 7/ 220C. Place the beetroot chips onto a baking tray and drizzle over the oil, chopped rosemary. chilli flakes and seasoning. Slide the tray into the oven and bake for 35-40 mins, turning the chips half way through, and remove when they are crisp and easily cut with a knife.
Into a bowl, add the yoghurt, lemon juice and chopped coriander. Mix thoroughly with a spoon and serve up alongside the beetroot chips for a lovely easy snack or side to burgers.
< Back to Recipes