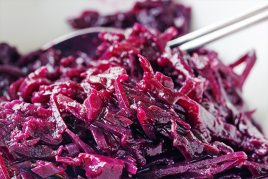 This braised red cabbage is a lovely side dish at any winter meal. It's warming and full of spice.
Serves: 3          Time: 1hr         Level: Medium
Ingredients
50g butter, plus extra to serve
1 red onion, finely chopped
1 cinnamon stick
¼ tsp ground cloves
¼ tsp ground nutmeg
1 red cabbage, cored and cut into irregular chunks
3 eating apple, finely chopped
3 tbsp muscovado sugar
300ml dry cider (Dunkertons works well). Non-alcoholic version can use vegetable or chicken stock
Method
Melt the butter in a large high-sided, heavy-based pan and gently fry the onion.
Add the chopped cabbage, apples and stir for a minute, until coated in the butter.
Add the cider and simmer.
When the leaves begin to soften (after about 10 minutes) add the cinnamon, gloves, nutmeg and sugar.
Simmer with the lid on, on a gentle heat until cooked – this could take up to 45 mins, so keep checking and stir intermittently, checking that it's not getting too dry or sticking to the bottom of the pan.
< Back to Recipes