Fair Trade banana, molasses and rum loaf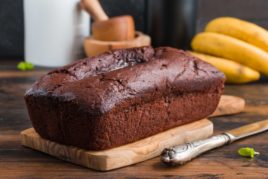 We just love how many Fair Trade ingredients we can fit into one loaf! Eat it plain, or toasted with lashings of butter.
Ingredients
85g butter
100g Fair Trade brown sugar
1 medium egg
3 medium overripe Fair Trade bananas, mashed
2 – 3 tbsp Fair Trade dark rum
170g Fair Trade blackstrap molasses
200g plain flour
2 level tsp Fair Trade ginger
1 tsp Fair Trade cinnamon
4 Fair Trade cloves, ground
¼ tsp nutmeg
1 tsp baking powder
½ tsp bicarbonate of soda
Pinch salt

Method
1. Pre-heat the oven to 190°C/170°C fan. Grease and line a loaf tin.
2. Whisk the butter and sugar until light and fluffy.
3. Beat in the egg until combined.
4. Mash bananas with the rum and molasses, and mix well with the egg and sugar mixture.
5. In a separate bowl, combine the dry ingredients, then gradually whisk into the wet ingredients until combined.
6. Pour the batter into the loaf tin and bake for 45 mins, or until a skewer comes out clean.
7. Leave to cool for 10 minutes in the tin, before turning out onto a wire rack to cool completely. Serve plain, or toasted with lashings of butter.
< Back to Recipes