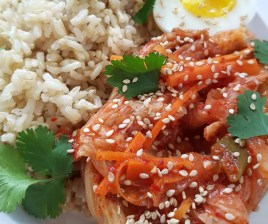 Kimchi, Korea's most popular dish, is cabbage fermented in a paste a mix of garlic, salt, vinegar, chili peppers and other spices and is traditionally served at every meal, either alone or mixed with rice or noodles, in soups or pancakes, and even as a topping on pizza and burgers.
It's become a hit in the UK as the benefits of fermented food on gut health have become better understood. As well as being loaded with vitamins A, B, and C, it contains the healthy bacteria lactobacilli, good for digestion. There's evidence it also helps to stop and even prevent yeast infections and prevent the growth of some types of cancer.
Kimchi
Level: Medium
Ingredients
For salting cabbage:
2 large Chinese cabbages (or green or pointed cabbages)
150g fine salt
For porridge:
470ml water
2 tbsp sweet rice flour
2 tbsp brown sugar
Other veg:
Bunch of radishes, cut into matchsticks
2-3 medium-sized carrots, cut into matchsticks
5 spring onions, sliced into matchsticks
Seasonings and spices:
24 garlic cloves, minced
2 tsp ginger, minced
1 medium onion, minced
100g hot gochugaru pepper flakes (available from Oriental supermarkets)
Method
For the full flavor add 5 tbsp of fish sauce and 2 tbsp of fermented salted shrimp, both available from Oriental supermarkets.
Split the cabbages in half, then cut a 6cm slit through the core of each half, so cabbage leaves are loose but still attached.
Rinse well. Sprinkle salt between the leaves by lifting up each one and getting the salt in. Use more salt on the thicker stems near the core.
Let them to rest for 2 hours. Turn every 30 minutes, so they get well salted. From time to time ladle some of the salty water from the bottom of the basin over top of the cabbages.
After 2 hours, rinse well under cold running water. As you wash, split the halves into quarters along the slits you cut into earlier. Cut off the cores, and put them in a strainer over a basin so they can drain well.
While the cabbage is salting, you can make the porridge:
Combine the water and rice flour in a small pot. Mix well and let it cook over medium heat for about 10 minutes until it starts to bubble. Add the sugar and cook 1 minute, stirring. Remove from the heat and let it cool off completely.
Pour cooled porridge into a large mixing bowl. Add the seasoning and spices and mix into a thin paste.
Add the radish, carrot, and spring onion and stir well.
Cover each leaf in a quarter with paste, wrap it around itself into a small packet, and put into your jar or container.
The kimchi will start fermenting a day or two at room temperature. You'll be able to tell because it will smell and taste sour, and pressing on it with a spoon will release bubbles from beneath. Store in the fridge and use as needed for up to 2 months.
Eat with plain rice and a soft egg or some tofu, or use in a stir fry or a noodle broth.
Adapted from www.maangchi.com/
< Back to Recipes