Healing carrot and turmeric soup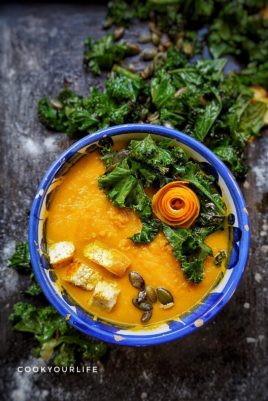 Soup should be colourful, and this recipe is … turmeric is an anti-inflammatory and mixed with wholesome carrot, will jazz up any winter day.
HEALING TURMERIC CARROT SOUP
Serve: 2 people          Level: Easy          Time: 30-40 minutes
Ingredients:
6 large carrots
1 Tbsp turmeric
2 large onions
1 orange juice & zest
2 gloves of garlic
1 Tbsp coconut oil
A pinch of Himalayan salt
A pinch of black pepper
Toppings
1/2 block of tofu
A handful of kale
A sprinkle of pumpkin seeds
A pinch of cayenne pepper
A pinch of Himalayan salt
Method
Dice or slice the onions and garlic and stir-fry on a medium heat.
Cut the carrots into smallish and add to the pan. Zest the orange, then juie it and add both zest and juice to the mix.
Now add the rest of the ingredients and cook for about 20 minutes or until the carrot start to soften.
Blend everything, adding water if needed.
For the topping:
Melt a knob of coconut oil in a pan and cook your kale with cayenne pepper and pumpkin seeds. Put aside.
Fry your tofu in the pan turning it over every few minutes to roast all sides, then dice into small cubes.
Serve your soup adding the tofu and top with the kale and seeds.
*Melanie R. Gonzalez is the creative force behind CookYourLife, She makes original recipes that taste great, look beautiful and have incredible health benefits. She cooks all around the world, leading workshops, working as a yoga retreat chef, writing her first book and sharing her passion as a food stylist & blogger.
< Back to Recipes