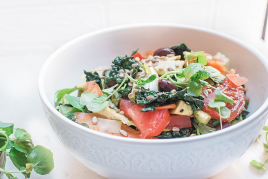 According to the College of Naturopathic Medicine, research suggests that organic food is better for your microbiome. 'Eating organic produce reduces our exposure to pesticides, which are proven to disrupt our gut flora'. Choose organic ingredients for this colourful salad …
Thanks to Lauren Windas, Nutritionist, College of Naturopathic Medicine graduate for this recipe. Photo e, Nicole Windas, ARDERE.
See naturopathy-uk.com/cnm-bristol for details of CNM courses.
Ingredients
1/2 tbsp coconut oil
1 bunch cavolo nero, chopped & stalk removed
Pinch of Himalayan salt
1 whole romaine lettuce, chopped
1 large carrot, ribboned (use a vegetable peeler)
1 raw beetroot, peeled & grated
1-2 shallots (depending on size), finely sliced
50g watercress
2 beef tomatoes, finely sliced
140g Kalamata olives, pitted
1 large avocado, diced
100g tinned or jarred artichoke hearts
3 tbsp olive oil
Juice of 1/2 lemon
Large handful of sunflower seeds to serve
Method
Heat the coconut oil in a shallow frying pan. Once hot, add in the cavolo nero and soften for 3-5 minutes on a medium heat. Sprinkle with salt and then remove from the heat to cool down.
Once the cavolo nero has cooled completely, gently combine with the remaining ingredients in a large bowl.
Sprinkle with sunflower seeds and serve.
---
To find out more about the benefits of 'eating the rainbow', read CNM graduate Elle Fox's blog Why organic food is better for your gut.
< Back to Recipes