Raspberry white chocolate muffins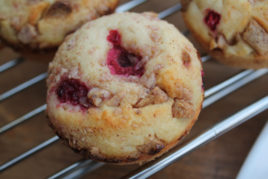 We've used Seed and Bean's Raspberry and vanilla chocolate in this recipe for muffins, though other white chocolates are available …
Serves:   8    Level: Easy       Time: 15-20 minutes
Ingredients
60g ground almonds
75g icing sugar
50g plain flour
1/2 tsp baking powder
45g unsalted butter, melted
3 large egg whites, lightly beaten
30g frozen raspberries
50g Seed and Bean's Creamy White Chocolate, Raspberry and Vanilla, chopped into chunks
Method
Preheat your oven to 180 degrees C.
Oil your muffin tray with sunflower oil or butter. Then beat the egg whites until you have soft peaks and melt the butter on the stove.
Place the almonds, icing sugar, flour and baking powder in a large bowl, pour in the melted butter and mix until smooth.
Add the beaten egg whites and gently mix until they are combined.
Spoon the mixture into the muffin cups until they are about half full (approximately 2 1/2 tsps in each). Push a few raspberries into each cup and sprinkle on the chopped chocolate, pushing some pieces into the batter, and then leaving some exposed so they can melt on top.
Bake until firm and golden, but still a little moist in the centre – about 8-10minutes. Leave on wire rack to cool.
Better Food has proudly supported Fairtrade since its inception and each year we try to go that little bit further to promote the movement. That is why this year we are putting on a spectacular coffee martini and chocolate tasting, to show that Fairtrade treats are not only good for your taste buds, they're also good for your soul. Wogan Coffee will provide the coffee, while Seed and Bean will provide the chocolate.
< Back to Recipes