Squash (stuffed) with Stilton & greens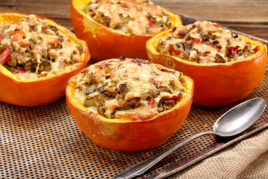 You can use any medium size squash for this recipe (scale quantity up or down, depending on squash available).
Serves: 4
Ingredients
2 medium-sized squash, halved, seeds removed
Olive oil
4 tsp paprika
Salt & freshly ground pepper
100g dried red lentils, rinsed
2 medium red onions, diced
4 cloves garlic, crushed
100g mushrooms, diced
4 tbsp passata
40g stilton, crumbled
200g fresh kale
Pumpkin or sunflower seeds, toasted
Method
Pre-heat the oven to gas mark 6/200°C. Place the squash halves in a roasting tin. Drizzle over olive oil, sprinkle a tsp of paprika to each half and season well. Roast for 30 mins, or until soft.
Meanwhile, prepare the stuffing. Boil lentils for 15-20 mins. Heat 2 tablespoons of oil in a pan and fry the onions, garlic and mushrooms until golden.
Remove the squash halves from the oven and spread a tablespoon of passata inside each half. Add an equal amount of lentils, onions and mushrooms to each half. Divide the Stilton into four and top each squash half, before returning to the oven for a further 10 mins.
Steam the kale for 5-6 mins, until slightly wilted. Remove from the hob.
Once the squash halves have turned golden and the cheese has melted, remove from the oven and serve each on a bed of kale leaves. Finish with a scattering of seeds.
< Back to Recipes