Stuffed Marinated Mushroom Steaks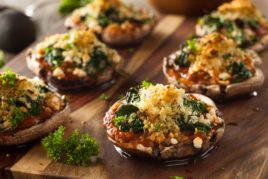 Vegan Stuffed Marinated Mushroom Steaks
Serves: 2          Time: 20 mins          Level: Easy
Ingredients
4 portobello mushrooms
1 tbsp balsamic vinegar
1 tbsp olive oil
½ tsp cumin
1/2 tsp black pepper
¼ tsp smoked paprika
1 tbsp soy sauce
3 cloves of garlic, crushed and chopped roughly
Pinch of salt
Method
Place the mushrooms into a baking tray. Into a mixing bowl, combine the other ingredients to make a dressing.
Brush the dressing over the mushrooms, leaving to marinate for 5 mins before brushing the other side and repeating the process.
Heat the grill onto a medium flame and place the mushrooms under. Cook on each side for 2-3 mins, or until the caramel colour of the mushrooms turns a deeper golden colour. Brush the remaining marinade onto the mushrooms half way through grilling to infuse the flavours further.
Once the mushrooms are golden on both sides, remove from the grill and serve up with fresh homemade chips and a hearty walnut salad.
< Back to Recipes