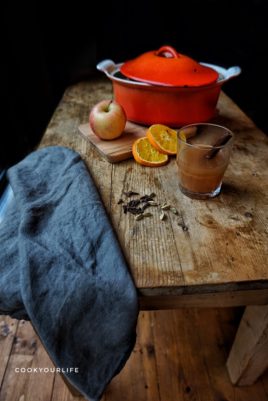 Finally, Christmas is almost here! I love this time of the year with everything lit up and decorated; the earth is breathing in, short days, long nights. We should try to show our compassion all year round, and this becomes all the more apparent when the Christmas spirit seeps into us – and it's lovely to see! My tree is up,  giving the perfect focal point to sit around with friends and family, and welcome them into my home. What better way to nourish them than with this this healing, non-alcoholic drink. Warming apple cider is great on a cold winters' night. Wrap your mitts round your mug and snuggle up with a book.
APPLE CIDER
Serve: 750 ml         Level: Easy          Time: 30 minutes
Ingredients:
500ml apple juice
1 Tbsp apple vinegar
A stick of cinnamon
1 clove
juice & zest of 1 orange
zest of 1 lemon
Instructions:
Add all ingredients into your best pan and heat for about 20 minutes.
Serve hot with a stick of cinnamon in a glass.
*Melanie R. Gonzalez is the creative force behind CookYourLife, She makes original recipes that taste great, look beautiful and have incredible health benefits. She cooks all around the world, leading workshops, working as a yoga retreat chef, writing her first book and sharing her passion as a food stylist & blogger.
< Back to Recipes