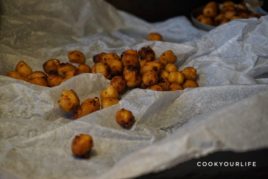 This chilli chickpeas recipe is a perfect snack to enjoy at break times. People may be deficient in protein at time without necessarily knowing it, so by adding in little boosts when we exercise more, or have a particularly strenuous day planned, can help to keep our bodies balanced. I'm sharing this particular chilli chickpea recipe with you today because I love the flavour combination. Feel free to add in or take out extra ingredients to create your own favourite flavours. You could even try roasting other beans or pulses but I haven't tried this personally. For this recipe you can use either canned or dried chickpeas. It may be better to use dried chickpeas if you suffer from bloating: just remember to soak them in water overnight, and cook them for 1 1/2 to 2 hours before starting this yummy recipe.
CHILLI CHICKPEAS
Serves: 4- 6 people.   Time: Once the chickpeas have been cooked, less than 30 minutes   Level: easy
Ingredients:
A can of chick peas or 400g of dried chickpeas, soaked and pre-cooked
1 Tbsp of cayenne
1 Tbsp of black pepper
1/2-1 Tbsp of Himalaya salt
1 Tbsp of coconut oil
Instructions:
Pre-heat the oven to 180c.
Heat a Tbsp of coconut oil in the oven while preparing the chickpeas.
Put the chickpeas into a bowl and sprinkle over the seasonings. Coat well.
Tip the contents of the bowl onto the hot, oiled oven tray. Pop the tray in the oven and cook until the chickpeas are golden brown or have a dry-crispy texture. This should take 20-30 minutes but check every 5-10 minutes as they burn easily.
*Melanie R. Gonzalez is the creative force behind Cookyourlife. She makes original recipes that taste great, look beautiful and have incredible health benefits. She cooks all around the world, leading workshops, working as a yoga retreat chef, and is currently writing her first book and sharing her passion as a food stylist & blogger.
< Back to Recipes