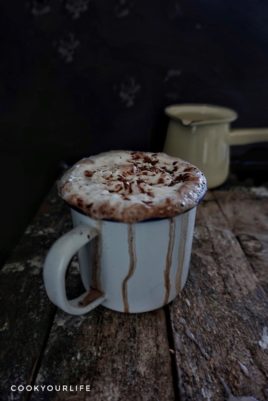 Over the years I've developed a number of quick and easy recipes. These recipes are perfect for you to try after the Christmas excesses, if you had any, allowing you to focus your time on getting active. Here's one of them – a hot cocoa made with all organic ingredients.
Contrary to popular belief, following a healthy lifestyle doesn't mean you should stop eating every single yummy food on the planet and stick to a plain, boring diet. We just have to be a bit more mindful about the types of ingredients we use, and how often and how much we use. So go ahead and give this tried and tested recipe a go this week, perfect to enjoy after a brisk winter's walk.
HOT COCOA
Serves: 2 people         Level: Easy        Time: 10 minutes
Ingredients:
2 Tbsp raw cacao powder
1 tsp lucuma powder
1 Tbsp of coconut sugar or agave syrup
1/2 tsp ground cinnamon
1/2 tsp grated ginger root
Pinch of cayenne pepper
1/2 tsp ground nutmeg
Pinch of Himalaya salt
1 cup of your favourite plant or nut milk*
1 tsp coconut oil
Instructions:
Mix together the spices and salt, or blend in a coffee grinder or blender if using whole spices. Set aside.
In a pan, heat the coconut oil with the raw cacao, lucuma, coconut sugar/agave until you have a smooth paste.
Next add a tsp of your spice mix (you can save the rest for next time), and stir to incorporate.
Then add your milk of choice, stirring as you go, until it reaches your desired temperature.
Serve with optional vegan cream or vegan marshmallows for something a bit more indulgent… so delicious!
Melanie R. Gonzalez is the creative force behind CookYourLife, She makes original recipes that taste great, look beautiful and have incredible health benefits. She cooks all around the world, leading workshops, working as a yoga retreat chef, is writing her first book and sharing her passion as a food stylist & blogger.
< Back to Recipes