Blood Orange Upside-down cake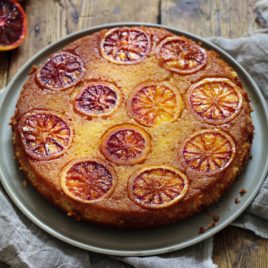 Make the most of our blood oranges in this fantastic twist on the pineapple upside-down cake!
Blood orange upside-down cake
Serves 6
INGREDIENTS
3 small blood oranges, plus an extra one for slicing
5 eggs, beaten
310g ground almonds
290g caster sugar
1½ tsp baking powder
1 tsp ground cinnamon
1 tsp ground ginger
METHOD
Place three of the oranges in a pan large enough to hold them, and cover with water. Bring to the boil, then simmer the oranges for two hours. You can do this the day before. After two hours, remove from the water and allow to cool slightly.
Lay a sheet of baking paper inside a circular cake tin with a removable bottom, making sure there are no holes for the cake batter to seep through!
Preheat the oven to 170C/gas mark 3.
Slice the remaining orange thinly and lay the slices across the base of the tin.
Roughly chop the boiled oranges and remove the seeds, then blitz in a food processor, peel and all, until you have a smooth paste. Add the eggs and then the rest of the cake ingredients along with a pinch of salt. Blend until well mixed. Pour the cake mixture over the sliced oranges.
Bake for one hour then remove from the oven and leave to cool in the tin for about 30 minutes. Turn out and serve with ice cream.
< Back to Recipes