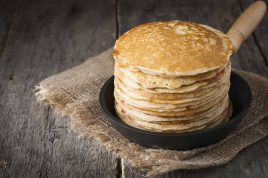 A solid, tasty recipe for gluten free pancakes that will make them centre-stage at the table …
Gluten Free Pancakes
Serves: 6          Time: 10 minutes         Level: Easy
Ingredients
125g gluten free flour (like Dove's Farm)
½ tsp gluten free baking powder
½ tsp salt
½ cinnamon
1 tsp vanilla extract
2 egg
1 tbsp vegetable or olive oil, plus extra for frying
120ml of cold milk
Method
Combine the flour, baking powder, salt and cinnamon in a large mixing bowl.
Into a separate bowl, add the vanilla extract, egg and oil and mix thoroughly
Add the dry ingredients to the egg mixture and stir together with a spoon. The pancake batter will be lumpy.
Drop in and stir the milk. Add more milk if needed to make the batter smooth.
Heat the oil in a pan over a medium heat. Pour in 1-2 heaped tablespoons of the batter to make a small pancake. After 30 seconds, flip and repeat until cooked through.
Serve up with some of our fresh apples and other fruit, as well as our delicious locally-sourced honey.
< Back to Recipes