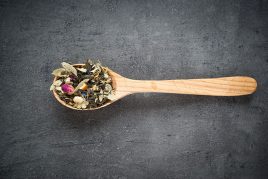 Spring is all about fragrance. With rose petals, as well as fragrant Japanese sencha, you can enjoy all of the good things about spring in one cup of this sencha tea.
SENCHA TEA with rose
Serve: 2    Time: 2 minutes    Level: Easy
Ingredients
1/2 cup organic rose petals
1/2 organic Japanese Sencha Green Tea
Method
Add hot water to your tea pot.
Slowly add your tea leaves to the colander inside of your pot.
Make sure you read the brewing directions on your tea packet to avoid stewing the tea.
Serve in your favourite cup and enjoy, either curled up with a book or shared with a friend – ahhhhh!
Better Food stock Clearspring Sencha tea, and rose petals can be found at Asian supermarkets like Sweetmart.
*Melanie R. Gonzalez is the creative force behind CookYourLife, She makes original recipes that taste great, look beautiful and have incredible health benefits. She cooks all around the world, leading workshops, working as a yoga retreat chef, is writing her first book and sharing her passion as a food stylist & blogger
< Back to Recipes