Sour cherry millionaire shortbread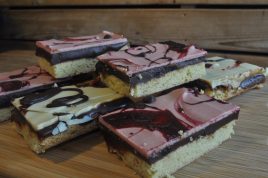 In the week leading up to Mother's Day our pastry chef Lisa knocked up a batch of gluten free sour cherry millionaire shortbread. They were so popular in the café that we thought we should share the recipe for you to try at home. These can be made vegan by swapping the butter for vegetable spread and milk for non-dairy milk. You can make your own vegan condensed milk by  following this recipe.
Sour cherry millionaire shortbread
Serves: Makes 20                                                               Time: 40 minutes                                                                   Level: Easy
Ingredients
250g Gluten free flour
250g Butter
75g Caster Sugar
50g sugar
400g condensed milk
75g dark chocolate
2 Tbsp Milk
75g white chocolate
A few frozen sour cherries
Pinch of salt
Method
Mix together the flour, 150g butter and 75g caster sugar to form a soft, crumbly dough.
Press the dough into an oiled 8×10″/20x25cm baking tin.
Prick surface with a fork and bake in a pre heated (180C) oven for 20 minutes.
Meanwhile, to make the caramel, put 100g butter, 50g sugar and 400g condensed milk into a saucepan, bring to the boil and cook for 10 minutes stirring constantly, or until golden in colour.
Remove from heat and spread over the cold shortbread. Leave to cool.
To make the topping, first gently melt together the chocolate and milk. Spread topping over half the cold caramel.
Then melt the white chocolate in a glass bowl over a bain-marie. Spoon half of the mixture into another bowl and add a few cherries, swirling them round to let the colour seep out.
Pour the white chocolate over the remaining caramel. Leave for 1 minute. Take out the sour cherries of the now pink chocolate. Pour over all the shortbread in a zig zag pattern
Use a toothpick to swirl the chocolates together. Get creative!
When set, cut into slices.
< Back to Recipes