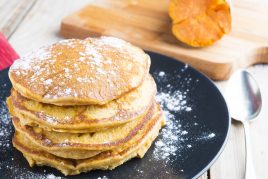 This is a tried and tested recipe for basic vegan pancakes – embellish as you wish … Adding a banana to a dairy and egg free pancake mix is another way to thicken it up. It tastes great too.
Vegan Pancakes
Serves: 9          Time: 10 minutes          Level: Easy
Ingredients
150g of plain flour
2 tbsp of caster sugar
2 tbsp of baking powder
½ tsp of salt
300ml of water
1 tbsp of vegetable oil
Method
Sift the flour, sugar, baking powder and salt into a large bowl. Whisk both the water and oil together in a separate bowl.
Making a well in the centre of the dry ingredients, pour in your water and oil. Stir until well-blended.
Heat a lightly oiled frying pan over a medium heat. Drop a large spoonful of the batter into the frying pan and cook until bubbles form and the edges are dry. Flip, and cook until brown on the other side.
Serve immediately.
< Back to Recipes