Zero waste Broccoli Stalk Salad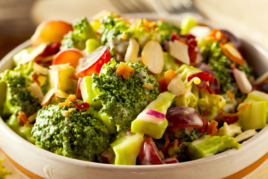 It's Plastic Free July and we've been busy thinking about other ways we can reduce, reuse and recycle, like this scrumptious zero-waste recipe. Did you know broccoli stalks are just as nutritious as the florets?
Our recipe for grilled broccoli florets and celery leaf pesto can be made as a vegetarian or vegan light lunch. This dish gives back-of-the-fridge veg a new lease of life, and saves them from an unnecessary trip to the bin.
Grilled broccoli stalks with yoghurt, grated carrot and celery leaf pesto
Serves: 4           Time: 30 mins         Level: Easy
Ingredients
For the salad
Two broccoli stalks, quartered lengthways
A tablespoon of Better Food olive oil
Seasoning
250g salad leaves
Two carrots, grated and the tops finely chopped
Half a lemon
For the pesto
190g of celery tops, chopped roughly
10g cheddar (use a vegan alternative)
50ml of olive oil
A squeeze of lemon juice
2 garlic cloves, crushed and roughly chopped
Seasoning
For the dressing
A dollop of Yoghurt (dairy or vegan) per serving
Method
Turn the grill onto a medium heat. Place the broccoli stalks onto a baking tray, drizzle over the olive oil and add the seasoning. Slide the broccoli under the grill for 8 mins, or until it starts to crisp.
Into a blender, add the pesto ingredients, and blitz until smooth.
Serve up the broccoli on a plate of mixed back-of-the-fridge greens and grated carrot, with a good squeeze of the lemon half. Top this with the pesto and yoghurt before enjoying as a zesty, zero-waste dish!
Cook's tip: see our zero-waste beetroot recipe for a delicious side to complement this light lunch!
< Back to Recipes