Almond polenta and fruit slice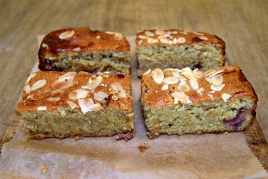 We're sharing one of our café favourites … you can change the fruit you use for a seasonal variation and none of the products used in this recipe contain gluten.
Ingredients (makes 12 slices)
5 eggs
300g cane sugar
1 tsp almond extract
100g almond butter
250g olive oil
340g ground almonds
115g polenta
1½ tsp GF baking powder
Pinch of salt
150g stewed or frozen fruit (apple, berries, rhubarb etc.)
Flaked almonds for topping
Method (takes 45 minutes)
1. Whisk together the eggs, sugar and almond extract.
2. Add the almond butter and oil, followed by ground almonds, polenta, baking powder and salt. Mix well.
3. Pour half the mix into a 25cm square baking tray and add a layer of fruit.
4. Pour the remaining mix over the top and sprinkle with a handful of flaked almonds.
5. Bake for 25-30 minutes at 180°C/Gas 4 or until cooked – put a clean knife into the cake, if it comes out clean, it's cooked.
< Back to Recipes