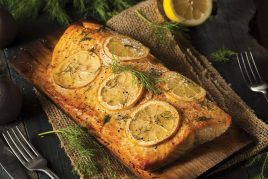 Ideal for a stress-free Christmas dinner party, this dish can be cooked ahead of time, with the final touches made just as your guests arrive. Slow-baking makes for beautifully flaky fish. Serve with boiled Valor potatoes and seasonal greens.
Zesty Slow-Baked Salmon
Serves: 4         Time: 1 hr         Level: Medium
Ingredients
1 side of salmon
Extra virgin olive oil
Salt and freshly ground black pepper
1 shallot, finely chopped
1 big bunch of sweet herbs (such as dill,
tarragon & parsley, leaves and stalk
separated and roughly chopped)
1 clementine, sliced
Enough Valour potatoes for 4 people
25g butter for the potatoes
Method
Preheat the oven to 90°C/Fan 80°C for slow-baking. Half-fill a baking dish with boiling water
and place it in the bottom of the oven to provide moisture.
Brush the salmon with a little olive oil and lay on a different baking tray. Season generously,
then top with the shallot, clementine slices and herb stalks.
Bake the salmon for 30 to 40 minutes. It's done when the fish feels firm to the touch and the
white juices just break through the surface.
Rest the salmon covered in foil for at least 10 minutes whilst you boil the potatoes and steam
your veg.
Drain the potatoes once cooked, and coat with melted butter and herb leaves.
When you're ready to serve, gently brush the herb stalks and shallots off the salmon and add
a squeeze of clementine juice. Pull into big flakes to serve with potatoes and veg.
< Back to Recipes