Vegan bean and sausage casserole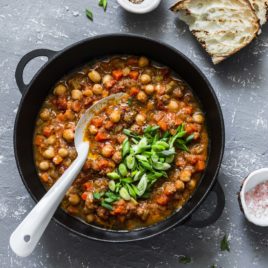 £1.75 per serving!
Better Food believes in a fairer food community for all. Food sourced locally with the highest organic standards in mind, so that the suppliers get a fair deal and the planet is treated kinder, too. We also understand that organic, locally-sourced food can appear out-of-range to the average customer. But organic is achievable on a budget. By planning meals in advance and batch-cooking, you can make the most of the ingredients, and save on food waste too.
This vegan sausage casserole is under £7 and will provide 4 portions – half a week for you alone, or a delicious midweek meal for the family. Find more recipe inspiration, plus sustainability tips and more over on our Instagram @betterfoodco.
Vegan bean and sausage casserole
Serves 4
Ingredients
1 tbsp olive oil
1 large onion, sliced
¼ squash, diced into 1cm cubes
3 carrots, chopped widthways
1 tsp chopped rosemary
2 cloves of garlic, minced
1 400g tin of chopped tomatoes
80ml of water
400g tin of butter beans
Pack of vegan sausages, chopped into 1cm chunks
½ tsp salt
¼ black pepper
Method
Heat the olive oil into a deep saucepan on a medium flame. Add the onions and cook for 8 mins, or until golden.
Next, pour in the squash, carrots, rosemary and garlic and cook for a further 10 mins.
Pour in the tinned tomatoes, water,s beans and sausages. Season with the salt and pepper. Place a lid over the pan and turn the heat to a simmer. Cook for 25-30 mins, or until the squash and the vegan sausages are tender.
Remove the casserole from the heat and serve up alongside chunky bread or creamy vegan mashed potato.
< Back to Recipes