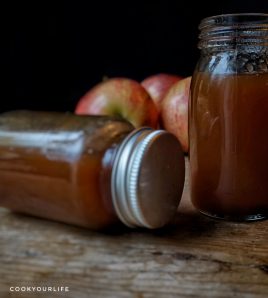 Apples are so versatile. This apple syrup recipe can be enjoyed on toast, over porridge or even as substitute for egg in vegan cooking.
APPLE SYRUP
Level: Medium
Ingredients
2kg apples
The juice of an apple
Juice of half a lemon
80g organic brown sugar** (optional: natural sweetness from the apple)
1 cinnamon root
Method
In a big casserole dish cut all the apples in half.
Cook, with a little water, for about 30 minutes or until the apples become mushy. Stir regularly.
Strain the apple puree and leave to cool for 4-6 hours.
Add all the strained liquid into a pan with cinnamon, lemon and sugar.
Reduce to a low heat, stirring frequently to avoid the pan from burning.
Pour the solution into a jar and leave in the fridge for up to 6 months.
Enjoy!
*Melanie R. Gonzalez is the creative force behind CookYourLife, She makes original recipes that taste great, look beautiful and have incredible health benefits. She cooks all around the world, leading workshops, working as a yoga retreat chef, writing her first book and sharing her passion as a food stylist & blogger.
< Back to Recipes