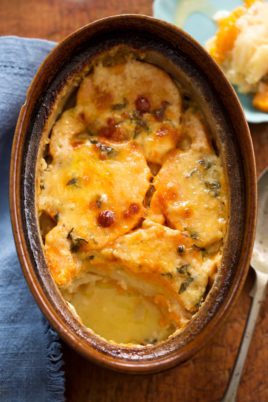 This celeriac gratin is full of creamy, wholesome ingredients and perfect with a serving of potatoes and greens. Or you could switch this with you usual potato gratin.
CELERIAC GRATIN
Serves: 4
Ingredients
25g butter
2 leeks, sliced
Small handful rosemary leaves, roughly chopped
1 bay leaf
300ml double cream
300ml milk
1 celeriac (about 500g), peeled, quartered and thinly sliced
100g cheddar, grated
Method
Preheat the oven to 180C/gas mark 4.
Heat the butter in a saucepan. Add the leeks, rosemary and bay leaf, covering and cooking very gently over a medium heat for 15 mins. Once the leeks have softened, pour over the milk and three quarters of the cream, seasoning and bringing the pan to the boil. Remove from the heat and leave to cool, then scoop out the bay leaf.
Pour a little of the leek mixture into an ovenproof gratin dish. Arrange a layer of celeriac in the dish, then season. Spoon over some more of the leek mixture and scatter with a little cheese. Repeat the process, alternating between layers of the leek mixture, cheese and celeriac slices, then finish with a drizzle of cream and the last of the cheese. It can be prepared up to a day ahead and kept in the fridge.
Bake the celeriac gratin for 1 hr-1 hr 15 mins until the top is golden and the celeriac is tender when poked with a knife. If the gratin is browning a little too much, cover the dish with foil.
< Back to Recipes