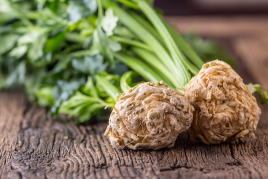 This is a slight Middle Eastern treatment for what we consider a very British vegetable. The celeriac in the UK is large, generous, creamy-fleshed and just delicious. You won't regret trying out this recipe.
Celeriac Puree and Yoghurt
Serves: 4-6 in a mezze         Time: 30 minutes          Level: Easy
Ingredients
1 small celeriac head (about 500g)
2 ½ tbsp olive oil
6 cloves of garlic, peeled
2 sprigs of thyme
1 ¼ tsp sea salt
2 tsp/10g unsalted butter
½ cup/100g natural yoghurt
Method
Peel and dice the celeriac. Place in a heavy-bottomed pan with the oil, whole garlic cloves, thyme sprigs and salt. Start on a high heat for about 5–6 minutes to give the dice some color, then reduce the heat and cook until they go really soft (about 10 minutes). If they catch too much on the bottom of the pan, add 1–2 tablespoons of water and continue cooking until soft.
Tip the cooked celeriac and garlic into a bowl and remove the thyme sprigs. Put the butter in the empty pan and return it to the stove on a high heat to melt it, then continue heating until it starts to go golden-brown. This develops a very different flavor, so don't be scared to let it happen.
Remove from the heat and pour onto the celeriac dice. Add the yoghurt and use a stick blender (or food processor) to purée everything together to a chunky dip. Don't make it too smooth, as getting a little surprise cube of soft celeriac is the best bit.
This is best eaten at room temperature. If you want to store it, just pop it in an airtight container in the fridge (where it will keep well for 2–3 days) and allow it to come up to room temperature before serving.
< Back to Recipes