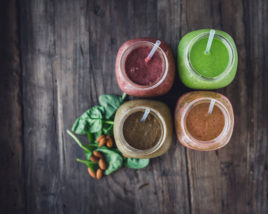 What better way to boost your body than with smoothies? Bursting full of healthy nutrients, these three smoothie recipes will keep you charged throughout the day. We have all the ingredients in-store, including the BodyMe Chocolate Protein Powder – perfect in the recipe for delicious chocolate smoothie.
CHOCOLATE PROTEIN SMOOTHIE
Serves: 1          Time: 30 seconds          Level: Easy
Ingredients
1 scoop of chocolate protein powder
2 tsp of ground almonds
2 tsp of coconut oil
250ml of almond milk
1 tsp of flaxseeds
BERRY BOOST
Ingredients:
250 ml of coconut milk
1 tsp flaxseeds
1 scoop protein powder
1 cup of berries
GREEN MACHINE
Ingredients:
1-2 cups of almond milk
1/2 cup of kale
1/2 cup spinach
1 Tbsp of coconut oil or 1/2 an avocado
A frozen banana
1 tsp ginger
1/2 tsp chia & flaxseeds
1/2 tsp bee pollen
1/4 tsp turmeric
Method
1.Blend all ingredients together and serve
Top tip: With all these smoothies, try adding a couple of ice cubes into the blender for a cooler, more refreshing smoothie.
If, as a result of these recipes, you are thirsty for more, why not try Mel's berry smoothie or Treevitalise's super smoothies.
Melanie R. Gonzalez is the creative force behind Cookyourlife. She makes original recipes that taste great, look beautiful and have incredible health benefits. When she's not inventing recipes, Mel shares her knowledge by cooking all around the world, leading workshops and working as a yoga retreat chef. Mel is writing her first book and sharing her passion as a food stylist & blogger whenever she can.
< Back to Recipes