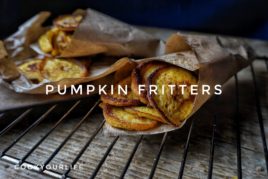 What can you do with a pumpkin when you've had enough of soups and pies? How about turning it into some crispy fritters. A go-to meal for ease and convenience.
PUMPKIN FRITTERS
Serves: 5 (2 each, plus 10 for the freezer)          Time: 20 minutes          Level: Easy
Ingredients
2 cups of roasted pumpkin
½ cup of gluten-free/your favourite flour
½ tsp. of Himalaya pink salt
2 tsp. of baking powder
1 tsp. of cinnamon powder
2 tsp. of coconut sugar or your favourite sweetener
2 large eggs**
Oil for frying (coconut works best)
Method
Heat the oven to 180-200°C.
Roast your pumpkin for an hour or until golden.
Add all the ingredients in a food processor/blender or blend by hand.
Heat the oil in a pan and when hot, dollop in a spoonful of the pumpkin mix. Depending of the size of the pan, you can cook 4-5 fritters at a time.
Fry for 60-90 seconds, then flip over for at least 30 seconds until cooked through.
Set aside on a paper napkin to absorb the excess oil and repeat as needed.
Enjoy!
*Melanie R. Gonzalez is the creative force behind CookYourLife, She makes original recipes that taste great, look beautiful and have incredible health benefits. She cooks all around the world, leading workshops, working as a yoga retreat chef, writing her first book and sharing her passion as a food stylist & blogger.
**vegan option: 2 Tbsp. of apple puree
< Back to Recipes