The perfect roast potatoes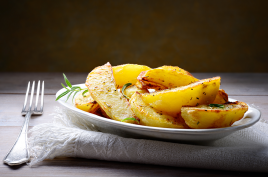 Ever wondered how to cook the perfect roast potatoes? Here are some tips on variety, added fat and technique …
Choose your variety – floury, starchy varieties make the fluffiest, crunchiest roasties – try Alouette Red.
Peel, chop and parboil. Opinion varies regarding length of time for this, from 10 mins to nearly cooked. If you do the latter, drain and add the fat (see next point) and give them a good shake in the saucepan (Hugh Fearnley-Whittingstall advocates scratching with a fork to rough-up the surfaces). This gets them really fluffy before you transfer them to the baking tray and this is the key to a good crisp.
Goose fat is the obvious choice for traditional roast potatoes (available in-store). Heat it in the baking tray first, and pour over potatoes when it's really hot (be careful!).
For a vegan and lighter alternative, try rapeseed or olive oil. About 100g/ml.
Once coated with fat/oil place them in the oven at 200C/gas 6 (180C/gas 5 in a fan oven) for about 40 minutes. Check from time to time that they're not burning too soon, but basically leave them and don't be tempted to agitate unless they really need it.
< Back to Recipes