Vegetable Kebabs with Homemade Hummus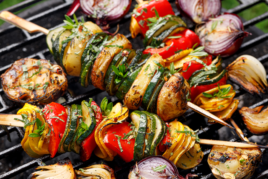 Vegetable skewers. The best of our summer produce, grilled to bring out those sensational flavours. Served up with a spicy hummus to see the new season in. If you don't have skewers to hand, you can easily dress and grill the vegetables in the oven before serving up with the hummus.
Vegan Vegetable Skewers with Homemade Hummus
Serves: 4           Time: 35 mins         Level: Easy
Ingredients
8 mushrooms
1 medium-sized courgette, cut into 2cm rounds
2 onions, quartered
8 cherry tomatoes
1 red pepper, cut into eighths
For the glaze
2 tbsp Extra virgin olive oil
1 tbsp mustard
Seasoning
For the spicy hummus
400g can chickpeas
60ml of Olive oil, plus 20ml for adding at the end
2 cloves of garlic, crushed
½ a red chilli, chopped
1 lemon, juiced and then ½ zested
3 tbsp tahini
Seasoning
Handful of fresh coriander, chopped roughly
Method
Begin by soaking your skewers in water for 30 mins to stop them burning on the barbecue. If cooking in the oven, preheat to 200°C/180°C Fan/Gas mark 6. Combine the oil and mustard together in a bowl with a little seasoning.
Thread the vegetables through the skewers and glaze with the dressing as you do. Place onto the barbecue or into the oven for 25-30 mins, or until the vegetables turn golden.
Meanwhile, taking a food processor or a hand whisk and a bowl, pulse the hummus ingredients together. Pop into a serving bowl and add the extra oil, finishing with your coriander.
Remove the skewers from the barbecue or oven, and serve up with the homemade hummus for a hearty Summer snack.
Cook's tip: serve the grilled vegetables and hummus up with toasted pitta and a dollop of yoghurt for a fuller feast!
< Back to Recipes