Roasted Squash, Feta and Pomegranate Salad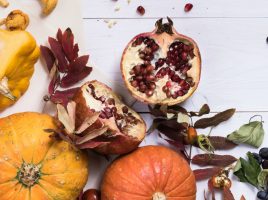 Take a few simple ingredients, like squash, cook well and enjoy with friends. That's our motto – and this dish really lives up to it! Check out our squash guide to select your desired cucurbits, then dig in to this sweet and salty, autumnal dish.
Roasted Squash, Feta and Pomegranate Salad
Serves: 4          Time: 45 minutes          Level: Easy
Ingredients
1 squash, sliced into wedges – we like the gem and golden nugget varieties
Olive oil
Salt & pepper
150g of Organic Village feta, crumbled
1 pomegranate, de-seeded
2 teaspoons black onion seeds
Method
Preheat the oven to 180c.
Place the sliced squash on a baking tray, drizzle with olive oil, coating with your hands, and add salt & pepper to taste.
Roast for 30 minutes, turning halfway. Check to see if done by skewering with a fork. If there is some resistance, continue to roast. If soft and charred, remove from the oven.
Allow to cool, place on a serving dish, drizzle with more olive oil, crumble over feta and scatter with pomegranate and black onion seeds.
< Back to Recipes