Vegan Black Banana Ice Cream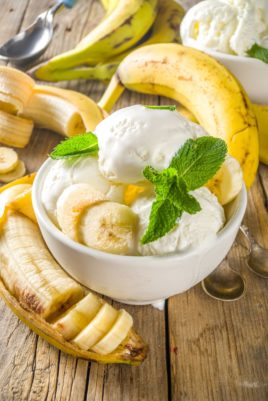 Turn those black bananas into a sweet vegan dessert to enjoy with delicious cake or a lovely bowl of stewed rhubarb!
BLACK BANANA ICE CREAM
Serves: 4
Ingredients
4 bananas (the more ripe the better)
3-4 tbsp oat milk
1 tsp vanilla essence
1 tbsp maple syrup
Handful or two of vegan chocolate chips or frozen fruit
Method
Chop the bananas into small pieces and pop them into a blender along with the other ingredients except if adding any chocolate chips. Pulse until well-combined and pour into a sealable tub. Add your chocolate chips and fold well into the mix here. Place the tub into the freezer for 2-3 hours, until the ice cream is stiff with some give when spooned. Serve this low waste recipe up with stewed rhubarb, cakes or anything yummy and sweet.
< Back to Recipes