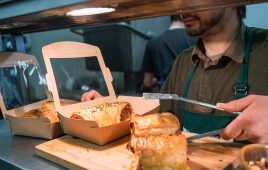 Due to popular demand, we're sharing our recipe for veggie sausage rolls. Packed with lentils, these rolls have more protein per serving than pork alternatives, and they can easily be made vegan by omitting the egg wash and replacing with a bit of melted vegetable spread or plant based milk. These rolls are perfect for lunches, wrapped in Bees Wrap or cloth. If you're in a hurry, then you will always find new and exciting flavours in our cafés, located in St Werburghs, Whiteladies Road, Wapping Wharf and Gloucester Road.
Veggie sausage rolls
Makes: 10-12          Time: 2 hours          Level: Easy
Ingredients
Puff pastry, defrosted
1 egg, mixed with a fork
2 Tbsp oil
1 onion
2 cloves of garlic
3 carrots, finely diced
3 tins of lentils, or 250g dried lentils, soaked and cooked
2 large potatoes, finely diced
1 Tbsp curry powder
2 tsp Paprika
Method
On a low to medium heat, sweat the garlic with 1 Tbsp oil until it becomes translucent
Add the garlic and cook for another minute
Mixes the spices with a tablespoon of water and add to the pan – the water will prevent the spices from burning
After another minute, add the diced veg together with half a cup of water. Stir, pop the lid on and cook for a further 8-10 minutes. Check every few minutes to make sure the mixture isn't burning. Top up with a little water as necessary
Check the veg is cooked by stabbing with a fork
Pour in the lentils, give a final mix, and turn off the heat
Leave to cool for 20 minutes
Preheat the oven to 180C
Take the puff pastry out of the fridge
Roll onto a lightly floured surface, and divide in two
Spoon the mixture onto the pastry, into the middle of the first half. Fold the top of the pastry over the filling and seal with a bit of water. Crimp the edge with a folk and brush with egg wash. Repeat with the other half
Cut the rolls into the desired size, pop onto a lightly oiled baking sheet and brush with the egg wash.
Place in the oven for 25-30 minutes.
Take out of the oven and allow to cool before tucking in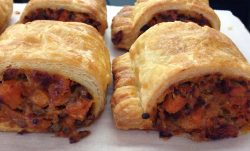 < Back to Recipes