Wild Garlic and Beetroot Pizza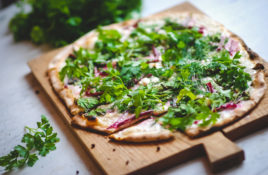 A really easy, seasonal treat for you. Wild garlic and beetroot flatbread pizza celebrate spring in all the best ways!
VEGAN WILD GARLIC AND BEETROOT PIZZA
Makes: 4 pizzas
INGREDIENTS
4 flatbreads
4 tbsp tomato puree
50g wild garlic, roughly chopped
1 onion, chopped finely
4 beetroot, precooked with skins removed
80g spinach
100g grated vegan cheese
Handful of fresh torn parsley
Seasoning
METHOD
Begin by preheating the oven to gas mark 7/190C.
Arrange the flatbreads onto a flat baking tray and start spreading a tablespoon of tomato puree on each. Scatter the wild garlic evenly over each pizza, and follow this with the onion, beetroot and the spinach. Add a portion of the vegan cheese to each pizza, finishing with the fresh parsley. Pop the pizzas you'll be eating into the oven and cook for around 10 mins, or until the vegetables have crisped a little and the cheese is melted.
Serve up with a generous splash of balsamic vinegar and a hearty seasonal salad.
< Back to Recipes