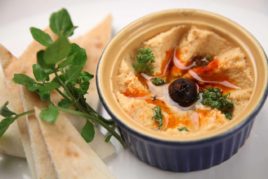 By Sophia Ali from Amma Life
Our customers at Amma Life tell us that they make cocktails, coffees and dips with CBD. Here is how you can make your own CBD hummus.
Hummus infused with CBD is not only delicious, but has many health-boosting ingredients too: cumin can help your immune system, extra virgin olive oil is a healthy fat, whilst rich garlic is reported to reduce blood pressure and improve your cholesterol levels. Not to mention CBD oil itself, which is perfect for optimising your health and wellbeing!
Ingredients:
 1 x can chickpeas drained (400g)
120ml lemon juice
60g tahini
1 garlic clove
Juice of 1 lemon
2 tbsp extra virgin olive oil
½ tsp ground cumin
½ tsp Himalayan pink salt
Pinch of freshly ground black pepper
1 tbsp water
Pinch of paprika
5 – 10 drops Amma Life CBD Oil
Method:
Place all ingredients in food processor
Blend until creamy and smooth.
Serve and enjoy!
Read Amma Life's blog
< Back to Recipes