Roasted Brussels Sprout, Mushroom and Kale Salad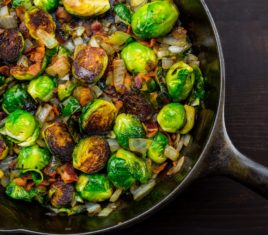 We love Brussels sprouts – they are so much more than a simple Christmas side. Try them in this delicious winter salad recipe…
Roasted Brussel Sprout, Mushroom and Kale Salad
Serves 4
Ingredients
1.5 kg of Brussels sprouts, trimmed
2 onions, quartered
2 cloves of garlic, crushed
Seasoning
1tsp paprika
1cm ginger, grated
1 tbsp soy sauce, plus extra for dressing
1 tsp dark brown sugar
1 tbsp olive oil
A knob of butter
400g mushrooms, roughly chopped
400g kale, roughly chopped
A handful walnuts, roughly chopped
Method
Turn the oven to Gas mark 6/200C. Arrange the sprouts onto a baking tray along with the onion quarters and garlic. Season well, add the paprika, ginger, soy sauce, dark brown sugar and drizzle over the oil. Pop the tray into the oven for around 25-30 mins, or until the sprouts turn golden and are tender when pierced with a knife. Once cooked, set to one side.
In a separate saucepan, heat the butter on a moderate flame. Pour in the mushrooms, sautéing for 5 mins or until brown. Once the mushrooms turn brown, add the kale and cook for 3 mins, or until it begins to wilt.
Combine the roasted vegetables with the mushrooms and kale. Serve up with an extra splash of soy sauce, and the chopped walnuts as a garnish.
< Back to Recipes