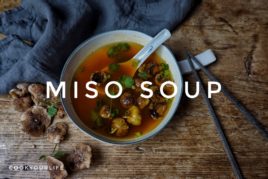 We have lots of tasty oriental ingredients on our shelves at Better Food. One recipe that makes good use of these ingredients is this Miso soup. As a nutrient-rich and flavoursome meal, you really can't go wrong.
MISO SOUP
Serves: 4 people                   Level: Easy                  Time: 25 minutes
Ingredients
1 onion
1 leek
5-10 shiitake mushrooms
1 carrot
1 yellow pepper
50 ml mirin
50 ml tamari (GF soy sauce)
1 Tbsp dashi (dry fish)*
A handful of parsley
1 1/2 litre water
Roasted, cubed tofu (optional)
Method
Heat the water in a pan.
Cut all the vegetables into medium sized chunks and add to the pan.
Cook on a medium heat for about 20 minutes.
Now add the mirin and tamari.
Turn off the heat and now add the miso paste.
Finally, top with parsley before serving and if you fancy it, add roasted tofu on top.
*To keep the recipe vegan-friendly, replace the dashi with liquid from steeped Algamar Atlantic Kombu or Tropical Wholefoods Shitake Mushrooms, both of which can be found at Better Food. This site offers step-by-step instructions on how to make the liquid.
Melanie R. Gonzalez is the creative force behind CookYourLife. She makes original recipes that taste great, look beautiful and have incredible health benefits. Using her knowledge, Mel cooks all around the world as a yoga retreat chef, , leading workshops and is writing her first book.
< Back to Recipes