Leek and Mushroom Nut Roast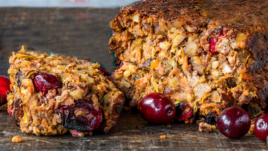 This leek and mushroom nut roast is an early Spring twist on the classic nut roast. Filled with seasonal vegetables, wholesome nuts and the tartness of cranberries. Enjoy with a generous amount of gravy, fresh greens and crisp roast potatoes. Perfect weekend fodder!
Nut roast recipe
Serves: 4
Ingredients
1 tbsp olive oil
15g vegan butter
1 onion, diced
2 celery sticks, chopped into small chunks
2 cloves of garlic, minced
200g mushrooms, diced
4 tbsp peanut butter
1 leek, chopped
2 carrots, grated
Handful of coriander
1 tsp smoked paprika
300g mixed nuts
150g cranberries
1 lemon, juiced
4 tbsp oat milk
1 tsp salt
1 tsp ground pepper
Method
Heat the oven to gas mark 180C/gas mark 4. Taking a loaf tin, line with parchment paper. Set aside.
Put a large frying pan on a medium flame, and heat the olive oil and 15g butter. Add the onion and celery sticks and cook for around 5 mins, until the vegetables soften.
Next, stir in the garlic, along with the finely chopped mushrooms and peanut butter, cooking for 10 mins.
Add the chopped leek and grated carrot, cooking for a further 3 mins. Then, add the handful of chopped coriander and 1 tsp smoked paprika, cooking for an extra minute.
Remove the vegetables from the heat and set to one side. In a food processor, blitz the mixed nuts into small pieces and then pour into the pan with the vegetables, along with the cranberries.
Add the lemon juice to the saucepan, along with the oat milk, salt and pepper, thoroughly combining the ingredients.
Taking a spatula, scoop the nut mix into the loaf tin, pressing down into the edges.
Place the nut roast into the oven for approximately 30 mins with foil on top, then remove the foil and bake for a further 20 mins or until golden on top and firm when pressed gently.
Serve the nut roast up with golden roast potatoes, vegan gravy and a good serving of fresh greens for a delicious meal.
< Back to Recipes