Purple Sprouting Broccoli and Mushrooms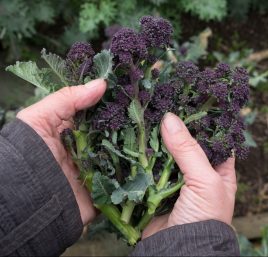 Hearty, healthy and above all delicious. Purple sprouting broccoli is the centre piece of this springtime dish.
Purple Sprouting Broccoli, Brown Mushroom and Roasted Chickpeas with Rice
Serves: 2 as a main          Level: Easy
Time: 40 mins (excluding soaking if cooking dried chickpeas)
Ingredients
175g brown basmati rice
125g cooked chickpeas (1/2 can, drained and rinsed or 65g of dried chickpeas, pre-soaked)
2 tbsp olive oil
1/4 tsp paprika
a pinch of salt
5 medium stems of purple sprouting broccoli, roughly chopped
150g brown or other tasty mushrooms, roughly chopped
1 medium onion, chopped
1 garlic clove, crushed
1 tbsp lemon juice
1 tsp soy or tamari sauce
Method
Preheat oven to 400°F/200°C/Gas Mark 6
Cook the rice according to pack instructions and set to one side.
In a medium bowl, mix together the chickpeas, one tablespoon of olive oil, the paprika and salt.
Spread the chickpea mix on a baking sheet and bake for 15 minutes, gently stirring half way through. Remove from the oven and set aside.
Heat the remaining olive oil in a large pan. Cook the onion on medium heat until soft. Add the mushrooms, broccoli and garlic, and cook until the mushroom and garlic are gently browned.
Turn off the heat and stir in the chickpea mixture, cooked rice, lemon juice and soy sauce.
Adjust seasonings to taste and serve.
< Back to Recipes