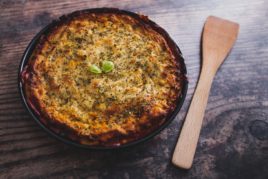 Looking for something meaty without the meat? You're in the right place! Give this wholesome vegan shepherd's pie a go. This recipe is packed with yummy seasonal root veg, wholesome squash and topped with creamy mash made using our special spuds.
Vegan Shepherd's Pie
Serves: 8
Ingredients
1.2 kg fresh floury potatoes (such as Maris Piper or King Edward), chopped into 1cm chunks
1 tbsp olive oil
2 onions, diced
250g mushrooms, diced
2 carrots, chopped into 1cm chunks
1 leek, chopped into 1cm chunks
2 cloves of garlic, crushed and finely chopped
400g of green lentils
400g of chopped tomatoes
100g squash, cubed into 1cm chunks
1 vegetable stock cube
1 tbsp soy sauce
1 tbsp vegan butter
2 tbsp vegan milk
Handful of fresh rosemary
1 tbsp nutritional yeast
Method
Pop the chopped potatoes into a saucepan, cover with water and boil until they begin to fall apart. Drain, and set to one side.
Into a separate pan, heat the oil. First, add the onions, frying them off for 5 mins on a medium flame. Follow with the rest of the vegetables, stirring as you fry them for a further 5 mins. Once the vegetables are frying, pour in the lentils, chopped tomatoes, crumble the stock cube, add the soy sauce and stir in 50ml of water. Turn the heat down to a small flame and simmer the sauce for 15 mins, stirring occasionally to make sure the vegetables don't catch.
Preheat the oven to gas mark 5/190C. Remove the sauce from the heat and pour into a casserole or pie dish.
Taking the potato pan, incorporate the butter and milk. Mash together until creamy, adding a little seasoning. Now layer the mash over the top of the sauce. Finish with a scattering of the rosemary and the nutritional yeast. Bake in the oven for 20-25 mins, or until the tops of the mash turn golden and the sauce is bubbling.
Serve with seasonal salad and enjoy!
< Back to Recipes