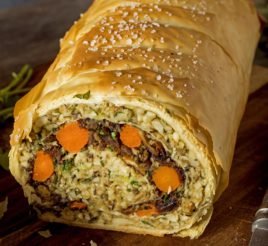 This vegan wellington has beautiful puff pastry filled with hearty winter veg. This is our kind of show-stopper! Give this vegan wellington a go and don't forget the roast potatoes…
HOMEMADE VEGAN WELLINGTON
Serves: 6          Time:
INGREDIENTS
4 tbsp olive oil
½ a medium squash, cut into 2cm chunks
1 onion, finely chopped
1 leek, trimmed and finely sliced
3 garlic cloves, crushed
100g spinach leaves
125g cranberries
75g walnuts, roughly chopped
Zest of one large orange
4 large portobello mushrooms
375g vegan puff pastry
2 tbsp oat milk
Seasoning
METHOD
Heat 2 tbsp olive oil into a large saucepan on a medium heat and cook the squash until it starts to soften and brown.
Next, add the onion and leek and fry for 10 mins or more, until softened. Follow this with the garlic, spinach, cranberries, walnuts and orange zest. Season well, and cook for a further 5 mins, until the mix is well-softened. Spread onto a baking tray and set aside to cool.
Heat another tablespoon of olive oil into the saucepan and add three of the mushrooms, stalks removed, and cook for 2 mins. Drain the mushrooms, stalk side down, onto some kitchen paper.
Pre-heat the oven to gas mark 7/220°C. Line a baking tray with baking paper and unroll the pastry onto its own paper. Begin spooning the vegetable mix into the middle of the pastry sheet, end to end – leaving 2cm each end.
Arrange the whole mushrooms on top of the mix. Spoon any remaining mixture into the mushrooms. Taking the oat milk, lightly brush the pastry edges. Bring the two short sides over the mix. Repeat this for the long sides to create a parcel shape.
Place the wellington onto a baking tray, flipping the parcel and the paper over so that the fold is hidden. Remove the paper and taking a knife, score the pastry a few times. Finish by brushing over the last of the oat milk.
Bake the wellington for 45 mins, or until golden and piping hot. Serve up with a lovely pot of vegetable gravy!
< Back to Recipes