Baked Apples with Date Sugar – Zero Waste Recipe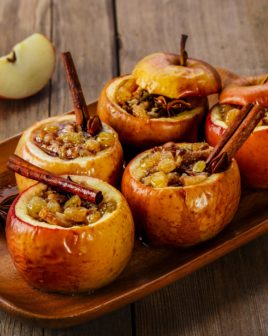 October sees our fruit displays filled with delicious organic brambley apples. We can think of no better way to celebrate them than with this recipe for baked apples. We're using date sugar instead of cane sugar, and we're keeping things zero waste – using loose and refill ingredients.
Baked Apples with Date Sugar
Serves: 4           Time: 2 1/2 hours
Ingredients
For the baked apples
4 apples
2 tbsp chopped almonds
2 tbsp walnuts
2 tablespoons of sultanas
2 tablespoons of oats to sprinkle on top
For the date syrup
30g dates
Method for the date syrup
Heat your oven to 150c /Gas mark 2.
Spread the dates onto a baking tray. Place into the oven and bake until rock hard. Be careful not to let them char.
Once cooked, set aside to cool. Use a food processor/coffee grinder and blitz until the dates turn into a powder. The date sugar may turn lumpy – this is normal.
Set aside for later.
Method for the stuffed apples
Now turn your oven to 180c/Gas mark 4.
Chop the tops of your apples. Remove the core and make a well in the centre to add your filling.
Mix 2/3 of your date sugar with 2 tbsp of chopped almonds, 2 tbsp of chopped walnuts and 2tbsp of sultanas. Mix thoroughly.
Add the mixture into your cored apples.
Sprinkle the rest of your date sugar and oats on top, this will crisp in the oven.
Bake for approximately 30 min or until the apples are tender.
< Back to Recipes