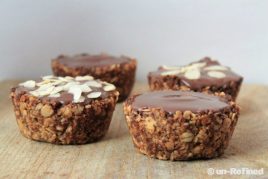 This recipe for oaty caramel cups has been kindly shared by Un-Refined.
May is a confusing month; the weather keeps changing from one minute to the next, and with it our emotions flicker from high to low. One day your having a BBQ with friends and laughing, the next your eating cookies and crying because of something your boss said. This recipe is for one of those days.
Un-Refined are one of our suppliers. Their cookie mixes are packed full of wholesome ingredients like maca, chia seeds and flax seeds and, in their chocolate cookie, raw cacao. We like them because they are refined sugar-free, wheat- and gluten-free, vegan, and their packaging is either recyclable or compostable. Where possible, there ingredients are organic, and they taste delicious too.
Oaty Caramel Cups
Serves: 4          Time: 2hrs          Level: Medium
Ingredients
One packet of un-Refined oat cookie mix – choose the one that appeals to you
110g coconut oil
220g dates
120ml your choice of milk
1/2 teaspoon natural vanilla extract – optional. You can use another flavour to add to your caramel if you want, such as salt.
A few pieces of your preferred chocolate (or make your own by heating coconut oil/cacao butter and cacao powder in a pan, stirring continuously for 30 seconds).
Method
Take any of the cookie mixes and follow the instructions in the bag to make the case for the cups.
If you are worried about getting the cups out of the tin once they are cooked, then line with a strip of grease proof paper to act as handles.
Fill a cupcake baking tray with the mix, pushing it up the sides and leaving a hollow middle for the filling.
Bake in the oven on 160degrees (fan assisted) for 40 minutes.
While they are in the oven, make the caramel for the filling.
Soak the dates for 10 minutes in either water, or the milk you are going to use.
Take the dates out (making sure you keep the milk if that's what you soaked them in)
Blend the dates to break them apart for about one minute and then add your choice of milk a little at a time.
Blend again until completely smooth and creamy. If you are adding any extra flavour then add it now.
Put the caramel to one side.
After 40 minutes take the oat cups out of the oven and leave them to cool for 10 minutes in the tin.
Carefully remove them from the tray, allow them to fully cool and then fill the cups with the caramel mixture.
To finish them, cover the top with grated chocolate and allow to cool.
< Back to Recipes