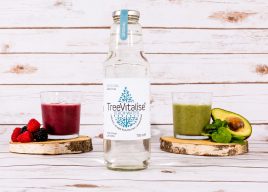 Our bodies can take a knock when we overdo it at Christmas, when we put the brakes on after working too hard, and when we brave the elements despite our body telling us that we should be hibernating. During the winter months it is therefore important to pack our diets with nutrients to boost our immune system. This can be a challenge during the hunger gap, so preserving, fermenting and blending food into soups and smoothies can all help to supplement our diets, naturally. Our friends at TreeVitalise share two recipes with us that are loaded with feel-good foods and can help to nourish your body any time of year.
A deliciously refreshing and nutrient rich smoothie. The high levels of vitamin C and plant phytonutrients in the berries help the body fight free radical damage from a busy lifestyle or post exercise. All the ingredients help to support a healthy heart and blood vessels, from the omega 3's found in the seeds to the potassium in the banana.
Birch & Berry Smoothie
Serves: 2              Time: 10 minutes               Level: Easy
Ingredients
1 cup (140g) frozen berries
250 ml of TreeVitalise Birch Water
½  a small banana
1 tbsp mixed seeds
A handful of ice
A sprinkle of seeds and/or one of Arctic Power Berries powders.
Method
Add all the ingredients together into a blender and blitz. Top with extra seeds if desired.
Winter boost smoothie
This is an ideal post-exercise smoothie. The avocado and birch water are great sources of potassium, which is important for cellular and electrical function, while the iron-rich spinach helps to energise. It is bursting with high levels of vitamin C, beta-carotene and kaempferol, meaning it is also good for cleansing the body of toxins.
Serves: 2              Time: 10 minutes               Level: Easy
1 cup (30g) spinach
1 (160g) avocado
250 ml of TreeVitalise Birch Water
1 apple
4 sprigs of fresh mint
Squeeze of Lime
Handful of ice
Method
As before, add all the ingredients to a blender and blitz until smooth.
< Back to Recipes