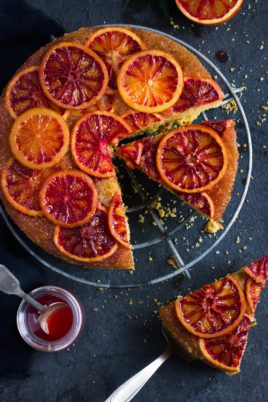 Celebrate blood orange season with this indulgent vegan blood orange cake. Irresistibly good with vegan cream or ice cream.
VEGAN BLOOD ORANGE CAKE
380g caster sugar
2-3 blood oranges (about 550g), 1 zested, all cut into 3mm slices
180g plain flour, plus extra for dusting
2 tsp baking powder
10g fresh rosemary, leaves picked and finely chopped
¼ tsp fine salt
180g vegan butter, at room temperature, plus extra for greasing
Flax egg (2 tbsp ground flaxseed/ 6 tbsp hot water)
4 tbsp plant-based milk
Add 200g of the sugar and 120ml of water into a large saucepan set over a medium heat. Stir until the sugar dissolves. Drop in the blood orange slices, bring to a simmer, then let it cook for 15 mins, or until the rinds begin to turn translucent. Remove from the heat and set to one side.
Preheat the oven to gas mark 4/180C. Grease and line a deep, 23cm round cake tin. Lightly flour the inside and line the bottom with nonstick baking paper. Place the tin onto a baking tray. Next, using a fork, carefully place the blood orange slices at the bottom of the tin, overlapping them slightly. Start in the middle and work your way out. Drizzle over 2 tbsp of the syrup you've just made and set to one side.
Combine the flour, baking powder, orange zest, rosemary and salt into a large mixing bowl. Into a separate bowl, beat the vegan butter and remaining sugar with a whisk until pale and creamy. Once you've made your flax eggs, add them a little at a time, combining well between each pour. Gently fold the flour into the mix, incorporating everything well but being careful not to overmix. Now, stir through the milk.
Pour the batter into the cake tin and over the orange slices. Smooth the top and bake the cake for 40 mins, or until golden, springing back when pressed. Leave to cool in the tin for 5 mins, then carefully run a knife around the edge to loosen. Placing an oven glove on top of the cake, flip it upside-down onto a wire rack, removing the baking paper. Drizzle with 2 tbsp of the remaining syrup, leave to cool completely, then serve with a vegan cream or ice cream of your choice.
Sign up to our newsletter to get 10% OFF your next shop!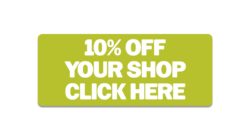 < Back to Recipes